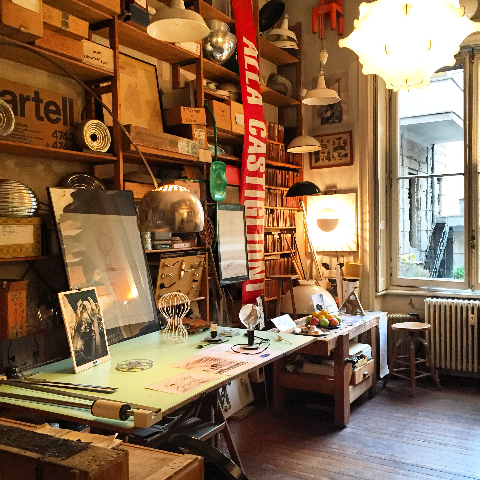 Designer Lucy Marczyk of Nexus Designs found plenty to immerse herself with at the Milan Furniture Fair, from comfort and flexibility by Barber Osgerby for B&B Italia, to technology and innovation by Nendo for Glas Italia and Ettore Sottsass for Kartell. more space had a chat about her highlights this year.

How many times have you visited the Milan Furniture Fair?

I have been twice, 2013 and 2015. The first year I attended I was completely overwhelmed and it was difficult to adsorb the sheer scale and enormity of the fair; so this year was different. It is exciting and exhilarating.

Did you go to the fair with a particular mission, or come away with one?

The reason I went, and why Nexus Designs sent me, is to maintain a global perspective on design. The Milan fair is where the world's leading designers and manufacturers' come together to share their progress in the past year and launch of new products. I travelled solo this year which was fantastic as it gave me the opportunity to think and reflect in my own time, I was constantly sketching, meeting people and understanding and absorbing all that was around me. For a designer, what a privilege, a week just thinking is rare as I am always busy, I like to call it design meditation.

Milan is always so interesting and colourful with its mix of events throughout the industrial zones, the back lanes, the high fashion strips…

It was incredible because it felt like spring, that intoxicating spring buzz made the vibe exciting and energetic, it felt alive. I didn't think there was a huge number of product releases, instead I felt it was more technology based, either adapting technology to new products or, other companies focusing on the re-engineering of existing pieces and improving them. People were saying that the lack of new product was a sign of companies in a post financial crisis stage; but I actually liked the approach and I thought it was clever and appropriate for the time. With lighting there were many technological changes and improvements, for example LED lights were incorporated into everything from roller blinds and external sun shades. Technology was also evident in theEttore Sottsass Memphis collection for Kartell. The pieces were designed almost 10 years ago and they had never been put into production because the technology needed to produce them was not available until now. Lighting designer Ingo Maurer used technology in his usual flamboyant decorative manner.

What was the standout installation?

The Fuorisalone was a standout for me. Nendo's exhibition at the Museo della Permanente was breathtaking, 'Glassworks' 2014 to 2015 was a collection of 100 products designed by Nendo Studio. The exhibition was displayed beautifully over two levels, and this year he designed nine new ranges for Glas Italia which were displayed on the ground floor. These included a series of floating glass cubes with rainbow edged glass furniture which treated the glass with a gradient effect, beautiful shelving units, small tables and use of mirror. Technology was apparent in Nendo's work, a dining table that had an etched glass top, which was not visible until a spotlight from above hit the top, projecting the etched pattern onto a surface 100 mm underneath. It was a knockout show.

Milan is famous for its parties, what were your highlights?

Phillippe Starck, whom I admire greatly, designed 'BoxInBox' for Glas Italia and was at the opening to launch the range. Humour and wit is always evident in his work.

What were the highlights at Zona Tortona and Ventura Lambrata, and any other zones you discovered that are worth a mention?

Cotto's installation by Piero Lissoni was a relaxing and calm space in the centre of Milan. A gravel path leading you off the busy Zona Tortona streets delivered you into a courtyard with 2 metre high mirrors lining historic stonewall architecture and was a perfect old meets new. This set the backdrop for the tile installation which sat centrally in the courtyards and also inside the building. Whites, beige, graphite, blues and eggshell toned tiles where shown. It was incredible and very calm.

Standout products, what caught your eye this year and why?

The Maraposa sofa from Vitra, designed by Barber Osgerby, was a really clever use of technology and a super comfortable casual design, offering multi-purpose and moveable functions. It was completely flexible for each user to experience & use so I can see using this sofa in many settings. Other superb pieces included the Oscar table at B&B Italia by Vincent Van Duysen, a dining table with soft lines and multiple finishes. The simplicity of the detailing is remarkable. Also from B&B Italia was the Charlotte chair by Antonio Citterio; a leather dining chair with metal legs of the same colour as the leather. This use of a single colour was both elegant and sophisticated.

Key directions you saw across furniture typologies and lighting?

There was a greater focus on innovation and technology.

What were some of the brand highlights for you?

Kartell is working towards a full lifestyle brand which I find interesting with their latest addition of fragrances. I noticed a lot of brands had fragrances this year in collaboration with leading fashion houses and perfumeries, which is an obvious pairing. Dutch brand Moooi showcased use the of technology in their new rug range with printed photorealistic high definition prints. The rugs were graphic and striking, colour options and customisable. They also have developed a 360 degree tour of their exhibition which you must check out. Maggiolina by Marco Zanuso for Zanotta The Ellipse pedestal table by Front for Porro was well proportioned and simple – visually it is beautiful. There was also a French company called Moustache who abandoned the fair this year but released a video. It's a cool little film which profiled their furniture in a unique way

Standout designers, your favourites as well as newcomers you discovered.

I admired a lot of creations by Barber Osgerby. Also Melbourne newcomers 'Copper ID' who designed a beautiful Balance pendant

Key themes this year – colours, materials, finishes, technologies – and how they might be translated into your studio?

Very muted and safe colour palettes, highlighted by black were key themes. Dark and dusty greens and blues on furniture with a hint of pale pink were popular colours. Clever colour blocking by designers like Vernor Panton and the Scandinavians such asCarl Hansen, who are normally quite restrained. They seemed to have abandoned the neutrals and are using far more colour, are Scandi's are over Scandi style? (laughs). Other themes were duality and multi-purpose, like the Barber Osgerby Maraposa sofa by Vitra.

Did you visit any cultural hot spots?

I visited Achille Castiglioni's studio which was amazing. His daughter Giovanni who showed us through the studio kept saying to, me "don't cry!" I was just so inspired; he was just the greatest thinker. His designs and his approach to everyday things and his use of ordinary materials are quite extraordinary & his style is elegant and witty. It is so cluttered in the studio with so much to see, it left me awestruck. It was truly a highlight.

How does visiting the Milan fair help to inspire your day job as a designer?

It's just that whole thinking time for me, meeting new friends and discussing ideas. It is inspiring to exchange thoughts with other designers on culture, on living and materials etc. Travel is important for designers; it gives you a broader perspective on all these things and it assists with the development of good design. When you are in Milan you designers from all over the world, see their work, experience their exhibitions

How would you describe a week in Milan during fiera to someone who has never been before?

There is a lot to see and do, it's busy, invigorating and exhausting. At the end of each day it is difficult to comprehend all you have seen and then hard to fall asleep. For me, as I left Milan, I felt energised and inspired.

Thank you.