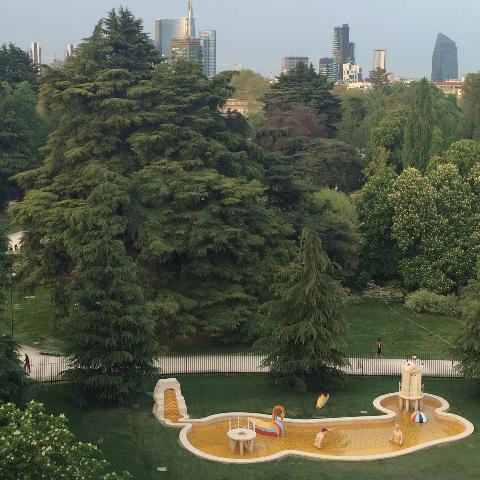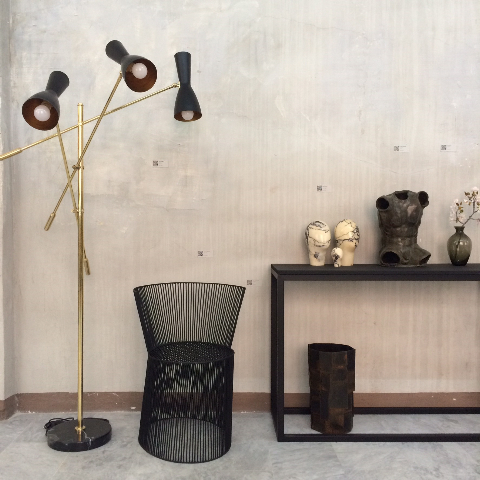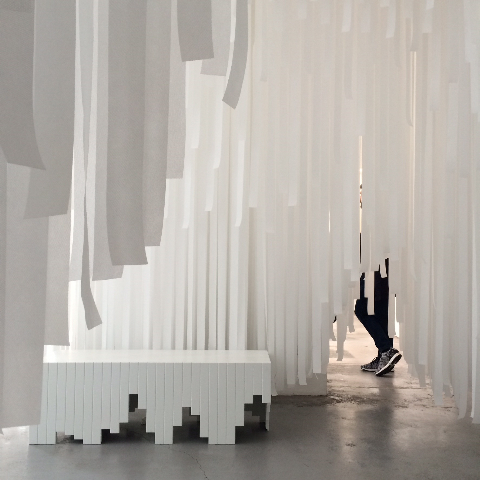 For designer Emily Moss, Instagram changed the way she explored the Milan Furniture Fair this year with the instant sharing of fair favourites helping to frame her design intake.

How many times have you visited the Milan Furniture Fair?

This year was my second time. I first went in 2012 a bit blind to the scale and intensity of Milan Design Week. This time I was much more prepared, having a better understanding of the industry and who the players are.

Did you go to the fair with a particular mission, or come away with one?

The mission was to go, see as much as possible, have a plan and stick to it as much as possible but everyone has a different approach. I had the fair guide highlighted each day but you also get advice from others during the day so you try to cover everything. At the end you are frantic! It's really interesting how social media is playing into who and what you see. Instagram has an amazing impact and made a huge difference to my trip of three years ago. You are looking at everyone's interpretations, instantly.

Where did you stay, please describe the area...

I stayed on Via della Spiga which is really beautiful. The fashion stores have mini exhibitions and often team up with a manufacturer, it's all pervasive. You feel like you are discovering something every time you go out.

What was the look and feel in the city this year, Milan is always so interesting and colourful with its mix of events throughout the industrial zones, the back lanes, the high fashion strips...

I think it really felt like a celabration this year, the weather was unseasonally warm and it felt like there was this big party outside and a heightened atmosphere. With the preparations for Expo Milano the city was in a rush and there was an extra buzz.

What were the highlights at Zona Tortona and Ventura Lambrata, and any other zones you discovered that are worth a mention?

The standout area for me this year was San Gregorio which was a surprise, we visited the area to see Lee Broom's department store. We found L'Eclettico Gallery which is a mid-century furniture gallery with quirky installations. L'Eclettico also teamed up with Wallpaper Handmade to develop a series of one-off pieces by collaborations with well-known designers and craftsmen. My favourite was a lovely 'Minibar' drinks cabinet by Cecilie Manz in collaboration with Rud Rasmussen, Iitala and Bang & Olufsen. As a district it was a real surprise outside the usual suspects.

Key directions you saw across furniture typologies and lighting?

I felt that colour trends have moved away from pastels to stronger colours but still offer a beautiful spectrum. Marble made a big comeback, evident at many stands including the Kartell stand which look it to a whole other level. In terms of fabric, upholstery was about texture; velvets and thick weaves. I was pleased to see lots of rattan – The George's range for Living Divani was a standout.

What were some of the brand highlights for you?

Moooi's new carpet brand has developed from a new printing process which is highly graphic and colour saturated. I was really excited to see work by Australian photographer Sonia Plates in the collection too. It was so great to see someone from home. Vitra had departed from their stands of the past and opted for a more open and industrial feel exhibit by Japanese Schemata Architects, supporting the new release by the French designers Ronan and Erwan Bouroullec. Their Belleville range made from polyamide but the form is representative of wrought iron was a design approach based on the design traditions of their hometown. Zanotta had some really beautiful new pieces, Joy, a reconfigurable shelf has a lovely story, the Shoji Console by Lucidi Pevere plays on the tradition of the Shoji screen and was an interesting take on an integrated piece of furniture. Kartell released a new range of Sottsass stools celebrating Memphis which are coloured and upholstered to give a retro but current twist.

One piece, or several, that you don't think you could live without - in your office or at home?

I have three. For home it would be the extended range of the Mariposa sofa by Barber Osgerby for Vitra. It is the most comfortable sofa and I love the way it opens and closes to represent the butterfly - Mariposa in Spanish. For projects, the Casta armchair by Living Divani. It is always hard to find the perfect armchair – in oak, leather and linen you can't go wrong. And finally I love the new colour range by Kasthall. It's nice to see them evolving as well. They do such beautiful rugs and to see them moving forward is wonderful.

Standout designers, your favourites as well as newcomers you discovered.

Obviously the Bououllec brothers seemed to be the most represented with new ranges for Vitra, Artek, Kettal, Glas Italia and Magis. They definitely were the standout designers for new product. In terms of a lesser-known designer, Spazio Rosanni Orlandi showed the work of Piet Hein Eek, a Dutch designer who makes beautiful cabinets and tables from recycled painted timber; apatchwork colour and textured one-off pieces.

Milan always has many surprises - did you find a fantastic place to eat that's a hidden gem, a favourite gallery, amazing interior/ building, or a bar that serves a wonderful spring aperitivo, or an adventure that has left a lasting memory?

It was not so much of a secret but on the roof of the Triennale di Milano museum a new bar had opened with beautiful views across the park and sculpture garden. It was the perfect place for aperitvo in the spring weather. It was a great way to look at the William McDonald sculptures in the garden.

How does visiting the Milan fair help to inspire your day job as a designer?

Going to Milan really connects you to the industry and is a great opportunity to meet and talk to industry peers about what is influencing, inspiring and challenging us in local our markets. Obviously it's the place to pick up on trends and movements that will influence over the next 12-months to 3 years. For example the pastel colour palette has been strong and evolving for a few years and the ombre trend, strong for the last two years has nearly faded. Trends come in waves, it starts one year and then developments the next year and eventually fades out when something else takes grip.

How would you describe a week in Milan during fiera to someone who has never been before?

I think the scale of design week is unimaginable it's a mad rush to see and absorb as much as possible. You have to remember to not look at everything through a camera, you have stop andtake it in.

Thanks Emily.