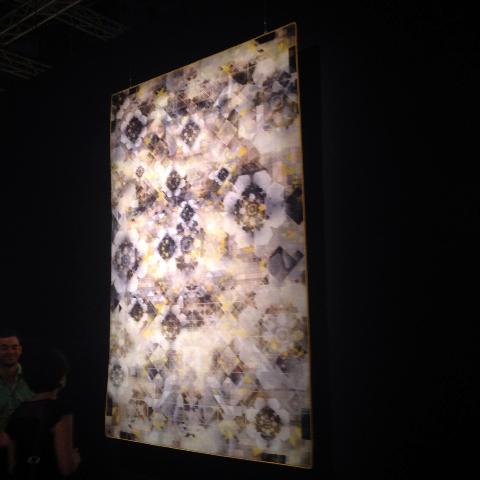 Exploring the Milan Furniture Fair for the first time, interior designer Belinda McGrath from architecture and design studio Arkhefield discovered that a city dedicated to design and designers is a beautiful thing.

How many times have you visited the Milan Furniture Fair?

This year was my first.

Did you go to the fair with a particular mission, or come away with one?

Mainly to be inspired. I wanted to see something new, whether it was a new welding technique or a new technology.

Where did you stay in Milan?

I stayed in San Babila right in the heart of the city. It's a beautiful area surrounded by little coffee bars and high-end furniture showrooms.

Milan is always so interesting and colourful with its mix of events throughout the industrial zones, the back lanes, the high fashion strips. What was the look and feel in the city this year?

The city was so alive with the fair. It was great to see so many people taking part and the locals so engaged with design. The back lanes are alive at night with fair drinks and the greenery around Milan, and its eclectic mix of architecture, is also beautiful.

What was the standout installation?

Moooi's installation was inspiring, the arrival sequence worked perfectly to captivate and excite the audience. The way the new rug collection was showcased as a series of beautiful artworks worked really well.

What were the highlights at Zona Tortona and Ventura Lambrate, and any other zones you discovered that are worth a mention?

Both Zona Tortona and Ventura Lambrate had a great festival feel about them. So many people wandering the streets and hunting out the next new idea. There was some really great stores and installations around San Babila too. In particular, I loved the detail and execution of the works of 'Japan Handmade', the beautiful 'chicken wire'esque' pendant light was incredible and it was great to see a small collective of Japanese artisans who have come together to create beautiful lighting, occasional pieces and accessories. I also loved the simplicity and craftsmanship of Alexander Lotersztain's QTZ pieces, the way the perfectly folded and welded metal reflected the light as it moved was inspiring. I was also happily surprised by how comfortable the angular metal form was.

Standout products, what caught your eye?

Alexander Lotersztain's new QTZ folded metal loungers were just stunning. It was interesting to stand back and watch the awe on people's faces as they walked through the door and it was great to see an Australian designer do so well at an international fair! I also felt the Flos exhibition and attention to detail with the lighting items was beautiful. From the installation, to the lighting designs and lighting output, all items were perfectly considered and beautifully articulated. Moooi's new rug collection is very exciting. My favourite was Digit Glow by Marcel Wanders; the colour, shading and patterning is just perfect. Kartell's lighting and furniture range was great with some really beautiful pieces that you could see working in a lot of projects straight away. I really love Kartell because they have perfected beautiful design at an achievable price point. B&B Italia is always beautiful, so well resolved and quite perfect. Their new outdoor range looked not only beautiful but welcoming and comfortable, so much so I was unable to test it out as it constantly had people sitting in it.

Key directions you saw across furniture typologies and lighting?

There seemed to be a lot of refinement this year. Rather than being big, new and crazy, the standout items were the furniture and lighting pieces that were perfect in their simplicity.

One piece, or several, that you don't think you can live without.

Michael Anastassaides' new lighting range for Flos was absolutely breathtaking in its simplicity and refinement. The simple folds of metal holding delicate balls of light showed a perfect relationship between design and restraint. I love how he is taking the everyday and expressing it in artistic detail. Whether it is an exaggerated ceiling rose, or a celebrated cable, the attention to detail in his work is to be aspired to and commended. He is definitely someone to watch.

The standout designers for you this year?

Michael Anastassaides and Alexander Lotersztain.

The key colours, materials, finishes, technologies and techniques you saw?

In terms of colours and materials it still appears as though warm metals, light timbers and soft greys and charcoals, with small pops of colour, are around to stay. Which is great because they work beautifully together. Arper's stand was a great embodiment of this. In terms of technologies, there were some exciting developments in the Salone Satallite section. One group of designers had developed a way to form leather into a self-supporting structural surface that looked beautiful and re-used the leather waste from the fashion and furniture industry. It will be really exciting to see how this develops.

Did you visit Studio Achille Castiglioni or Foundation Vico Magistretti, La Triennale, or any other cultural hot spots?

Unfortunately I got my times wrong and missed the Castiglioni tour. I really enjoyed wandering around Sforza Castle, Duomo and the old Galleria though. It was lovely to see the architecture at different times of the day and night and to see how the city came to life.

Did you find an interesting place to wind down during the week?

The little trattoria below the apartment we stayed in made the most amazing croissants and blood orange juice in the morning, and it became a lovely little dinner place with the best pasta in the evening. They were only doing dinners for design week so it was a great find.

How does visiting Milan help to inspire your day job as a designer?

It's great to see what is going on around the globe, and very inspiring to see that Australia isn't so far removed from the design pulse. It's a real education to view and reflect upon so much creativity, and it helps refine your own direction.

How would you describe the Salone to someone who has never been before?

Full on! There is so much to do and see, a week feels like a long time but I definitely didn't manage to cover it all. It's a sensory overload of beautiful design, fashion, food and wine.

A lasting memory…

To see a city so dedicated towards design and designers is a beautiful thing!

Thanks Belinda.